Honiara, 19th August 2022 – Powerlifting Solomon Islands will now gain access to a fully equipped High-Performance faculty within the Solomon Islands National Institute of Sport (SINIS).
On 19th August 2022 the Powerlifting SI has reached the agreement and requirement to finally sign the Memorandum of Understanding (MOU) with SINIS and the National Sports Council (NSC).
Powerlifting SI President Joe Au Ramosaea said they have been anticipating taking the sport to the next level – and the MOU signing will pave a way forward in terms of their preparations for the 2023 Pacific Games.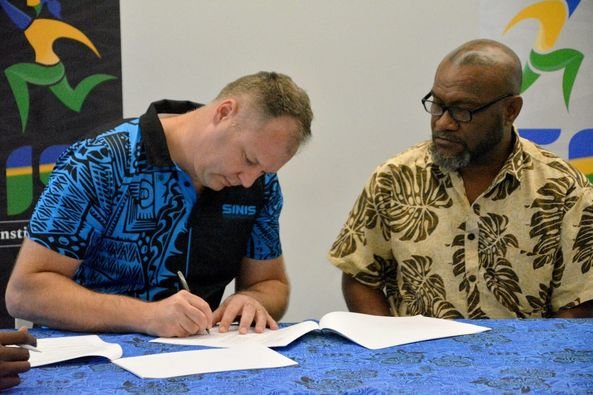 "As the President, I'm very excited to finally sign the MOU today. It took a while to decide on our governance and meet the requirements, and now it's a major achievement for us," Ramosaea stated.
"We never had such opportunities available to our athletes and coaches before. Therefore, we want to thank the national government, SINIS staff and management and the NSC.
The MOU is to outline all of the support services and programs, along with assistance in areas of the training facility and equipment access, coach and athlete scholarships and a range of capacity-building programs which have not been offered in the Solomon Islands before SINIS was established.
-SINIS Media
FEATURED PHOTO Caption: SINIS Performance Manager Portfolio 1 Moses Aunama Jr and SINIS Executive Director Aaron Alsop congratulate Powerlifting SI President Joe Au Ramosaea and his executive member for the signing of MOU.