BY CHRIS ALEX
TEAM Solomon Volleyball Coach Thomas Tebaubau assessed Team Solomon's performance and suggested areas for improvement after losing their opening match against Kiribati in the Men's Indoor Volleyball competition at VXII Pacific Games 2023.
At the Friendship Hall indoor court facility, Team Solomon Indoor Volleyball faced off against Kiribati 2-3 and lost narrowly.
Coach Thomas was happy with the team's overall performance in spite of the first game's loss, pointing out that the players showed exceptional skill and tenacity.
"Our boys were playing well today, and there are only a few things that need to be adjusted before our second match," he told RAW SPORTS.
Thomas, while pointing out specific areas that needed work, emphasized the need to concentrate on blocking and saving, recognizing that these areas cost the team valuable points in the match against Kiribati.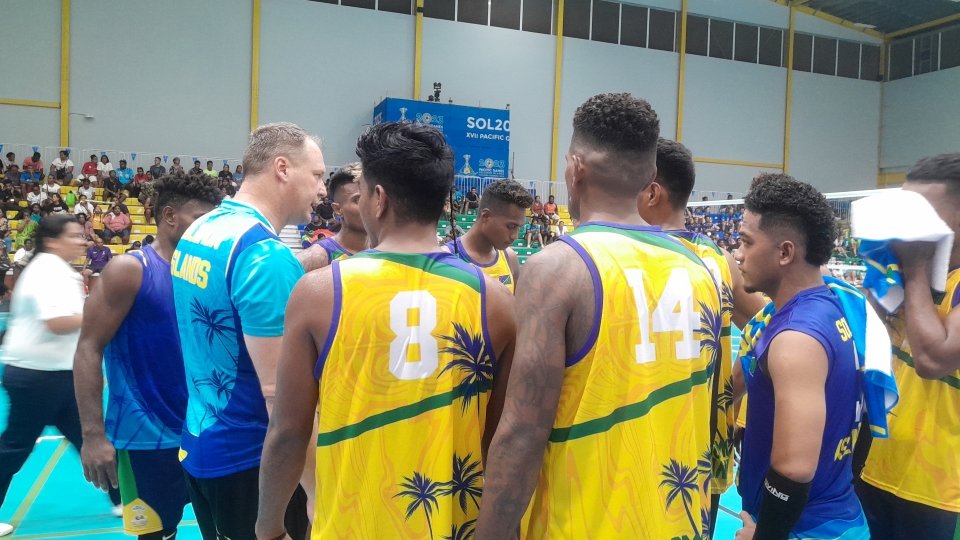 He underlined that in order to improve the team's defensive capabilities, specific changes must be made in these areas.
"Our boys need to refocus and adjust because we lost the majority of our points today due to poor blocking and saving," Coach Thomas said, "Our boys played well despite the loss, and I am confident that we will bounce back stronger in the next games with the necessary adjustments."
The Friendship Hall in Panatina's Games City will host the national men's indoor competition as part of the VXII Pacific Games in 2023.
Teams from the Solomon Islands, Kiribati, Tonga, Samoa, and New Caledonia are participating in Pool A of the men's competition.
Coach Thomas thanked the Kiribati team for their victory and admirable on-court demeanor, expressing gratitude and sportsmanship in the process.
"I would like to congratulate the Kiribati team on winning.
"They had outstanding play, and their sportsmanship is admirable. We are eager to take on the challenges that lie ahead and are committed to making the required changes for our upcoming matches," he said.
Excitement is building for the thrilling matchups in the VXII Pacific Games 2023 Men's Volleyball competition as Team Solomon reorganizes for their prospective matches.
Samoa and Solomon Islands will play match two of the VXII Pacific Games 2023 Men's Volleyball competition today at 7 p.m. on court one at the Friendship Hall.